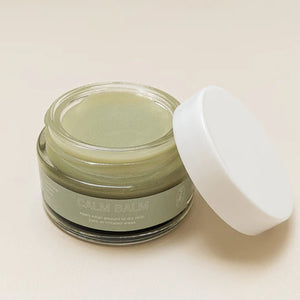 ABOUT:
This super soothing and repairing balm has so many uses - apply on dry skin, cuts, rashes, and blemishes to help speed up the healing process. A blend of powerful herbs that calm, soothe, restore and protect the skin. 

HOW TO USE:
Apply a small amount to dry skin, cuts, rashes, or any irritated area. Can be used on face and body, and is good for all skin types.

A note on the texture: When fresh, the balm is a super smooth consistency. Due to the nature of the natural butters and oils they can become grainy over time. You can remove the lid, and place in the oven on the lowest temperature for 10 minutes or until melted. Place directly into the fridge until it's firm and it's good to go!
INGREDIENTS:
Raw Shea Butter, Fractionated Coconut Oil (infused with organic herbs of chamomile, calendula, lavender and comfrey), Organic Cocoa Butter, Organic Beeswax, Meadowfoam Oil, Mango Butter, Organic Tamanu Oil, Vitamin E.