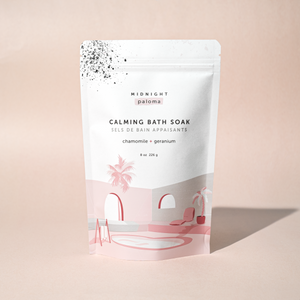 Scent Story: Chamomile, Geranium, Lavender + Bergamot
Hero Ingredient: Chamomil
Benefit: Nourishment
Meet: All natural, calming bath soak is the perfect excuse to take a dip at the end the day. Plus soften your skin big time! With its lush formula that features a hero ingredient: chamomile. This is a powerhouse antioxidant that will soothe and reduce irritation. Paired with geranium that helps calm inflammation, lavender that heals and bergamot which is naturally up-lifting this soak is a must for dry/sensitive skin.
8 oz. Kraft Package