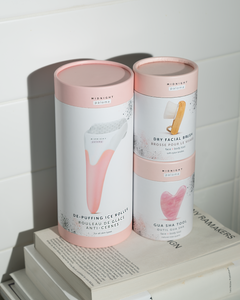 -Shrink the size of pores, for smoother-looking skin.
-Helps with lymphatic drainage through the combination of a facial massage and ice therapy. Instantly reduce puffiness and redness (think how an ice-pack can reduce swelling and bruising).
-Boosts circulation, bringing blood to the skin surface - restoring radiance and encouraging optimum cell function.
-The roller attaches and detaches easily from the handle to be kept in the freezer, so it's ready when you need it.
-With daily application, you'll notice that your skin is refreshed, tighter and less prone to breakouts. This is a daily energizing skin treatment you'll love to use.