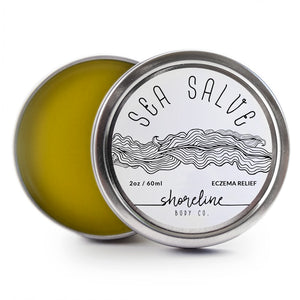 Finally, eczema relief that really, really works! Use this powerful steroid-free eczema remedy to treat and prevent outbreaks. Our botanical blend of Calendula, St. John's Wort, and Chickweed is infused with Seaweed to create a powerhouse combination that relieves inflammation and irritation. Organic Beeswax has anti-inflammatory, antibacterial and antiviral benefits that will help to protect and moisturize your skin. On top of all of that, our gentle blend of Colloidal Oatmeal and essential oils of Chamomile, Helichrysum and Frankincense will soothe and restore suppleness to dry and damaged skin.
Ideal for: eczema, psoriasis, burns, rash, chaffing, chapping, insect bites and wound healing.
Key Benefits:
Relieves Inflammation and Irritation
Reduces Flaking patches
Restores suppleness​
Moisturizing and soothing
Quantity
: 2 fl oz. / 60 ml
Ingredients: Organic Calendula, Seaweed, St. Johns Wort & Chickweed Infused Almond Oil, Organic Jojoba Oil, Organic Beeswax, Colloidal Oatmeal, Vitamin E, Essential Oils of: Chamomile Roman, Helichrysum, Frankincense
How to Enjoy: Gently massage salve to affected areas as often as needed for relief. Apply with clean, dry hands to prevent contamination. Store in a cool, dry area.