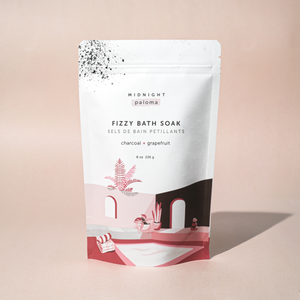 Scent Story: Blood Orange, Vanilla, Lime + Grapefruit
Hero Ingredient: Charcoal
Benefit: Detoxification
All natural fizzy soak will hydrate and invigorate after a long day. Use in the bath or as a foot soak. (And no, it won't stain your tub).
Ingredients/Ingrédients: Magnesium Sulfate (Epsom Salt), Sodium Chloride (Sea Salt), Avena Sativa (Rolled Oats), Carbones (Charcoal) and/et Essential Blend/Huile Essentielles.