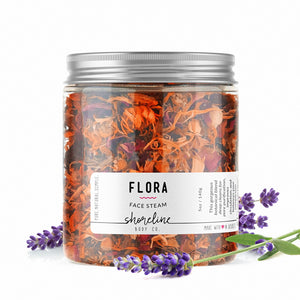 This gorgeous vitamin-rich botanical face steam is the perfect addition to your self-care ritual. Use to deep clean pores, improve circulation, and balance your complexion. Give your skin, and self, a well-deserved break or prep your skin for deeper cleansing, masks and facial treatments. Combined with our Radiate Night Mask for a complete complexion boosting facial treatment!
Quantity: .25 oz. / 15g
Ingredients: Organic Rose Petals, Homegrown Calendula Petals, Chamomile Flowers, Comfrey Leaves & Cornflower Petals, Wild Foraged Lavender Buds
How To Enjoy:
Place 2-3 tablespoons of botanicals into a large bowl, cover with 3-4 cups of boiling water. Let cool slightly, then drape a towel over your head to capture the infused steam.  Enjoy the gentle heat and aroma for 10-15 min as the herbs gently purify + cleanse your pores. Breathe deeply, taking open air breaks as needed. When finished you can reuse the floral water by adding it to the Radiate clay mask for a full facial treatment.