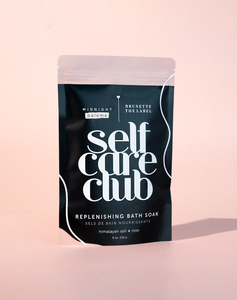 This blend of active mineral salts, magnesium, and botanicals will revive, soften, and nourish dull skin. You'll come out of the bath with skin that looks refreshed, baby-soft, and healed. The fragrance blend is inspired by a classic French rose and will transport you to a garden oasis.
Fragrance: A Classic French rose by the sea
226 g (8 oz.) Pouch
Ingredients: Magnesium sulfate (epsom salt), sodium chloride (sea salt), sodium chloride (himalayan salt), and essential oil blend/huile essentielles.
Midnight Paloma x Brunette the Label.