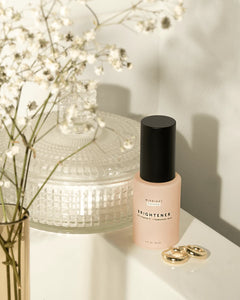 Vitamin C blend fades the look of sunspots and attacks fine lines. While, hyaluronic acid and grapeseed oil hydrate and plump for bright, firm, even skin.
Hyaluronic Acid binds moisture to the skin to plump and brings a dull complexion back to life. It prevents the dryness common with other Vitamin C serums.

Grape Seed Extract helps increase cell turnover to keep skin looking bright and helps to prevent breakouts.
Why 12%? Maximize effectiveness without irritation.

Pure 12% L-Ascorbic Acid
This is a full-strength, stable Vitamin C. At the highest concentration we could muster to brighten and smooth without irritating sensitive or breakout-prone skin.
Ingredients/Ingrédients: Aqua, Ascorbic Acid, Propanediol, Aminopropyl Ascorbyl Phosphate, Sodium Citrate, Sodium Benzoate, Hydroxyethyl Cellulose, Xanthan Gum, Sodium Hyaluronate, Vitis Vinifera (Grape) Seed Extract.